Product Summary
The OPA350UA is a rail-to-rail CMOS operational amplifier. The OPA350UA is optimized for low voltage, single-supply operation. Rail-to-rail input/output, low noise, and high speed operation (38MHz, 22V/ms) make them ideal for driving sampling analog-to-digital converters. They are also well suited for cell phone PA control loops and video processing as well as audio and general purpose applications. Single, dual, and quad versions have identical specifications for maximum design flexibility. The OPA350UA series operates on a single supply as low as 2.5V with an input common-mode voltage range that extends 300mV below ground and 300mV above the positive supply. Dual and quad designs feature completely independent circuitry for lowest crosstalk and freedom from interaction.


Parametrics
OPA350UA absolute maximum ratings: (1)Supply Voltage: 5.5V; (2)Signal Input Terminals, Voltage: (V–)– 0.3V to (V+)+ 0.3V; (3)Current: 10mA; (4)Operating Temperature: –55℃ to +125℃; (5)Storage Temperature: –55℃ to +125℃; (6)Junction Temperature: 150℃; (7)Lead Temperature (soldering, 10s): 300℃.


Features
OPA350UA features: (1)rail-to-raiinput; (2)rail-to-raioutput (within 10mV); (3)wide bandwidth: 38MHz; (4)high slew rate: 22V/ms; (5)low noise: 5nV/Hz; (6)low thd+noise: 0.0006%; (7)unity-gain stable; (8)microsize packages; (9)single, dual, and quad.


Diagrams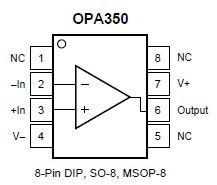 Image
Part No
Mfg
Description
Pricing
(USD)
Quantity

OPA350UA

Texas Instruments

High Speed Operational Amplifiers Hi-Spd Single-Sply Rail-to-Rail

Data Sheet



| | |
| --- | --- |
| 0-1: | $1.74 |
| 1-25: | $1.59 |
| 25-100: | $1.27 |
| 100-250: | $1.10 |


OPA350UA/2K5

Texas Instruments

High Speed Operational Amplifiers Hi-Spd Single-Sply Rail-to-Rail

Data Sheet



| | |
| --- | --- |
| 0-1790: | $0.82 |
| 1790-2000: | $0.77 |
| 2000-2500: | $0.77 |
| 2500-5000: | $0.74 |


OPA350UAG4

Texas Instruments

High Speed Operational Amplifiers Hi-Spd Single-Sply Rail-to-Rail

Data Sheet



| | |
| --- | --- |
| 0-1: | $1.74 |
| 1-25: | $1.45 |
| 25-100: | $1.27 |
| 100-250: | $1.10 |


OPA350UA/2K5G4

Texas Instruments

High Speed Operational Amplifiers Hi-Spd Single-Sply Rail-to-Rail

Data Sheet



| | |
| --- | --- |
| 0-1790: | $0.82 |
| 1790-2000: | $0.77 |
| 2000-2500: | $0.77 |
| 2500-5000: | $0.74 |