Product Summary
The USBN9604-28M is an integrated, USB Node controller. Other than the reset mechanism for the clock generation circuit, these two devices are identical. All references to "the device" in this document refer to both devices, unless otherwise noted. The USBN9604-28M provides enhanced DMA support with many automatic data handling features. The USBN9604-28M is compatible with USB specification versions 1.0 and 1.1, and is an advanced version of the USBN9602.
Parametrics
USBN9604-28M absolute maximum ratings: (1)Supply Voltage: -0.5V to +7.0V; (2)DC Input Voltage: -0.5V to VCC +0.5V; (3)DC Output Voltage: -0.5V to VCC +0.5V; (4)Storage Temperature: -65 to +150℃; (5)Lead Temperature (Soldering 10 seconds): 260℃; (6)ESD Rating: 4.5kV.
Features
USBN9604-28M features: (1)Low EMI, low standby current, 24 MHz oscillator; (2)Advanced DMA mechanism; (3)Fully static HALT mode with asynchronous wake-up for bus powered operation; (4)5V or 3.3V operation; (5)Improved input range 3.3V signal voltage regulator; (6)All unidirectional FIFOs are 64 bytes; (7)Power-up reset and startup delay counter simplify system design; (8)Simple programming model controlled by external controller; (9)Available in two packages.
Diagrams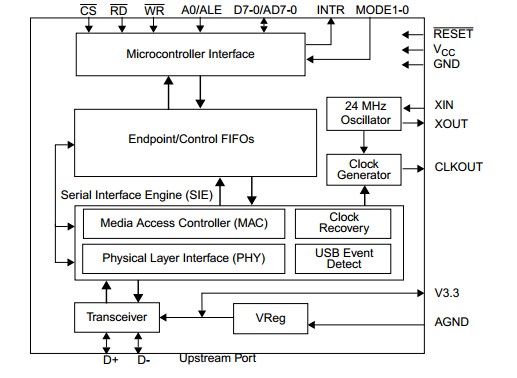 Image
Part No
Mfg
Description
Pricing
(USD)
Quantity

USBN9604-28M

National Semiconductor (TI)

USB Interface IC

Data Sheet



| | |
| --- | --- |
| 0-130: | $3.04 |
| 130-260: | $2.72 |
| 260-520: | $2.50 |
| 520-1014: | $2.05 |


USBN9604-28M/NOPB

National Semiconductor (TI)

USB Interface IC

Data Sheet



| | |
| --- | --- |
| 0-1: | $3.80 |
| 1-25: | $3.11 |
| 25-100: | $2.81 |
| 100-250: | $2.58 |


USBN9604-28MX/NOPB

National Semiconductor (TI)

USB Interface IC

Data Sheet



| | |
| --- | --- |
| 0-1: | $3.80 |
| 1-25: | $3.11 |
| 25-100: | $2.81 |
| 100-250: | $2.58 |


USBN9604-28MX

National Semiconductor (TI)

USB Interface IC

Data Sheet



| | |
| --- | --- |
| 0-1000: | $2.05 |
| 1000-3000: | $1.97 |